Today was mostly sprite work. Thought I'd take the opportunity to give a preview of the other available summons in the game
.

Heeere's Jack! FF fans will recognize this as unholy amalgamation of two nasty monsters.

An adorable cat-like creature that's found in the desert of the American Southwest. Hint: it doesn't like hugs.

You don't want to trifle with this Hellhound. Forgot to apply the black outline here, but somehow its better without?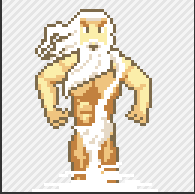 Thought this was particularly hilarious WIP of Zeus. He looks like he's having a fit.
There's this big entity as well, which was an early work so it looks slightly off compared to the rest. I've tentatively named it Agartha, after the legendary underground city.

It's been great fun to come up with ideas for the various summons and research on the mythology behind the characters. I have been brainstorming about the potential attacks that each summon can perform, and how to make the gameplay varied and interesting enough. Balance is going to be a huge issue though.